The second block of my modern sampler is a log pyramid. It's a mini version of the
log pyramid quilt
I completed in 2014.
At the center is a little silver spider. That mustard spider web fabric makes me so happy!
I chose the fabric for each ring of the pyramid at random. As usual I used a random number generator.
But first I made a test block from scraps.
I love the way this block came out. That little pop of blue/green is just right.
Check out my
tutorial
if you want to make your own log pyramid block.
Still on track at week two! Yay!
Fabrics used (on the green square):
Chelsea in Leaf (Highline by Free Spirit Fabrics)
Doily Web in Mustard (Spellbound by Cotton + Steel)
Pasture Lines in Pickle (Carkai by Carolyn Friedlander)
Drawn Stripe in Leaf (Carkai by Carolyn Friedlander)
The fabrics in the test square are from my stash and I don't know what they are.
I'm linked up with: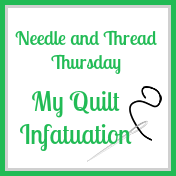 Crazy Mom Quilts